Archive for October, 2009
Tahniah diucapkan kepada pakar panel yang membekalkan tip yang tepat dan hebat. Sekarang kita tunggu tip untuk SPM 2009.
Sesiapa yang belum menempah Mail Order SPM 2009 Tips, sila Order sekarang sebelum harga meningkat.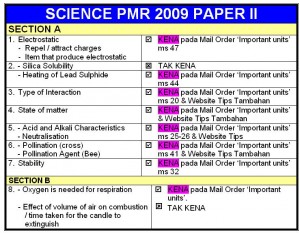 K
ENA TEPAT PT3 2009
B

AHASA MELAYU 2009
Kena Karangan bahagian B pada Website, Mail Order (contoh karangan m/s 15 dan Seminar)
S
EJARAH 2009
Kena Hampir 90% pada nota Mail Order Tips bergaris dan Seminar
GEOGRAFI 2009
Kena Hampir 100% pada nota Mail Order Tips dan Seminar
M
ATHEMATICS 2009
Kena Hampir semua soalan Mail Order Tips, Nota ringkas, Kelas Ekspress dan Seminar















This is your last chance.
SPM is NEARING and it's coming FAST. Order our 100% Kena Tepat TIPS with sample questions and answers.
HURRY, before it's too late. Click here to order.