2014 SPM EXAM TIPS
EKONOMI ASAS – RAMALAN

KERTAS 2
BAHAGIAN A
1. a. Masalah asas ekonomi dan sistem ekonomi
b. Jenis pendapatan dan pendapatan boleh guna
c. Pelaburan dan tabungan
2. a. Penentu permintaan dan graf
b. Keluk DD dan Hukum DD
c. Keanjalan harga DD dan Konsep Ed
d. Penawaran dan konsep firma
e. Konsep, Hukum, pembentukan dan perubahan SS
3. a. Keseimbangan pasaran barang / faktor
b. Aliran pusingan pendapatan
c. Perkhidmatan Bank Perdagangan
4. a. Sumbangan IKBB seperti BSN / Umum
b. Struktur dan Sektor Ekonomi
c. Belanjawan negara – cukai
5. a. Imbangan pembayaran – Imbangan akaun semasa
b. Hutang negara
c. Perniagaan Antarabangsa (PAB) – kebaikan, sekatan dan sebab
d. Kadar pertukaran asing – kepentingan dan kesan
BAHAGIAN B
6. a. Peranan / Konsep Isi rumah
b. Faktor permintaan dan keanjalan permintaan harga
c. Masalah pergantungan ekonomi kepada sektor utama
d. Kawalan ekonomi (kemelesetan / inflasi)

2014 SPM PHYSICS
EXTRA EXAM TIPS PAPER 2 & 3
Form 4

Extra Exam Tips

Chapter 1
Micrometer gauge

Voltmeter

Chapter 2
Inertia                                    Gravity

Hookes Law                          Thicker timer

Chapter 3
Archimedes principle

Atmospheric pressure

Chapter 4
Boyle Law

Charles Law

Pressure Law

Chapter 5
Reflection of mirror

Convex / Concave lens

Form 5

Extra Exam Tips

Chapter 1
Wave length / frequency

Spring / Oscillation / Resonance

Young double slits

Chapter 2
Resistance of thickness / diameter

Series circuit / heater

Chapter 3
Faraday law / induction

Current / No. of coil & strength of electromagnet

Transformer

Chapter 4
Logic gates / Rectification diode
Chapter 5
Radio isotope

E = mc2
Above are Physics paper 2 & 3 extra exam tip..
We are trying to Help!
Please read this extra exam tips 'notes' together
with your Mail Order Exam Tips.
2014 SPM MAIL ORDER TIPS

For those who are interested to buy 2014 SPM Mail Order Exam Tips Books
(with notes, sample questions & answers)

Now OFFER! RM220 for remaining 4 subjects.
1) Science Stream [RM220] : ADD MATHS, BIOLOGY, CHEMISTRY & PHYSICS
2) Art Stream [RM220]: ADD MATHS, SCIENCE, EKONOMI ASAS & PERDAGANGAN
3) Art Stream [RM190]: SCIENCE, EKONOMI ASAS & PERDAGANGAN
WALK IN ONLY
ANDREWCHOO'S HQ (NO:110A, JALAN OTHMAN, 46000 PETALING JAYA, SELANGOR)
***Please call 0377839924 to confirm
4 NOV 2014
Congratulations to
those who has joined the
SPM BM bengkel class.
A lot discussed came out/ kena tepat.
Those who havent register for
other subjects or get the exam tips book
Hurry do so…..
click here for 2014 SPM Bengkel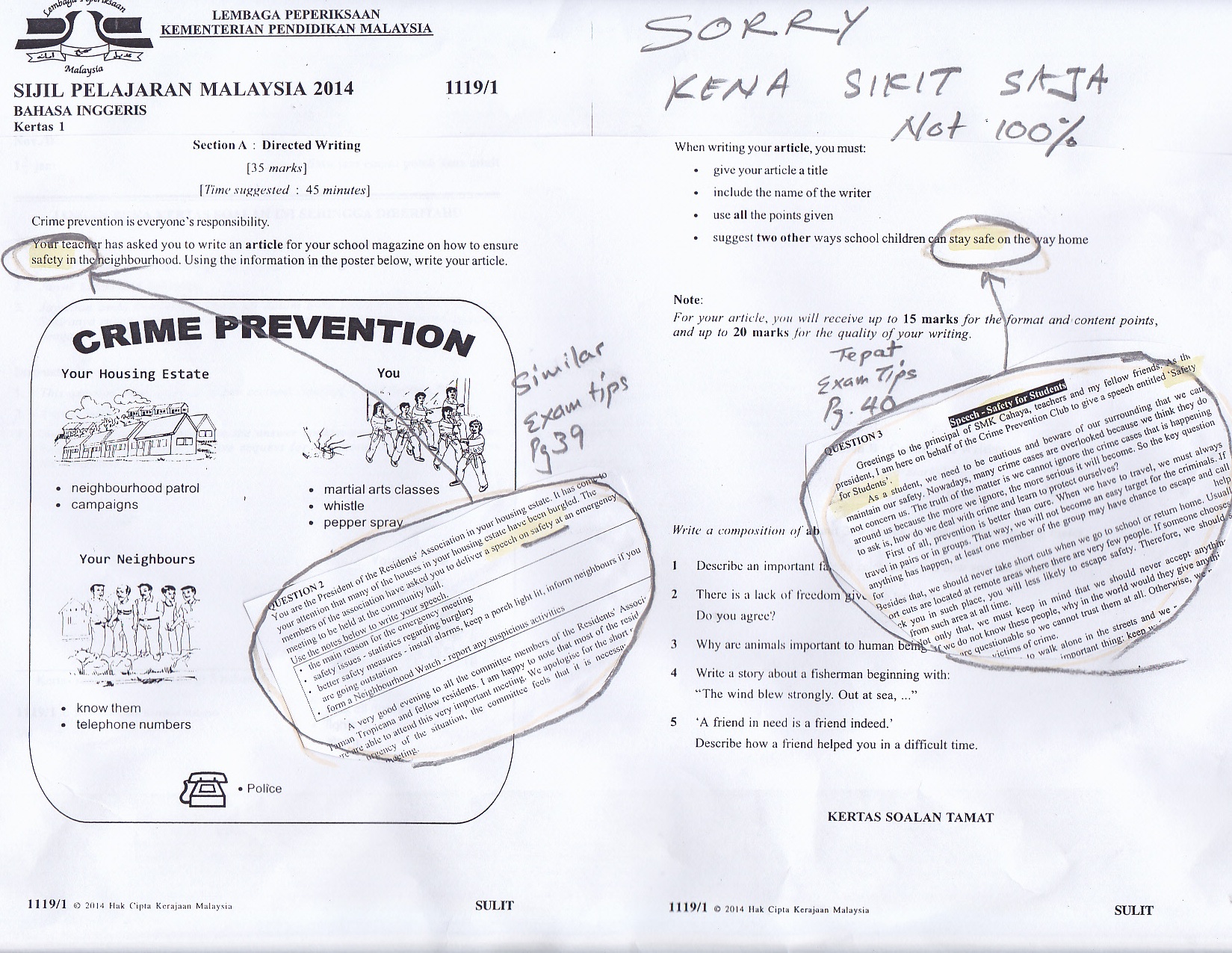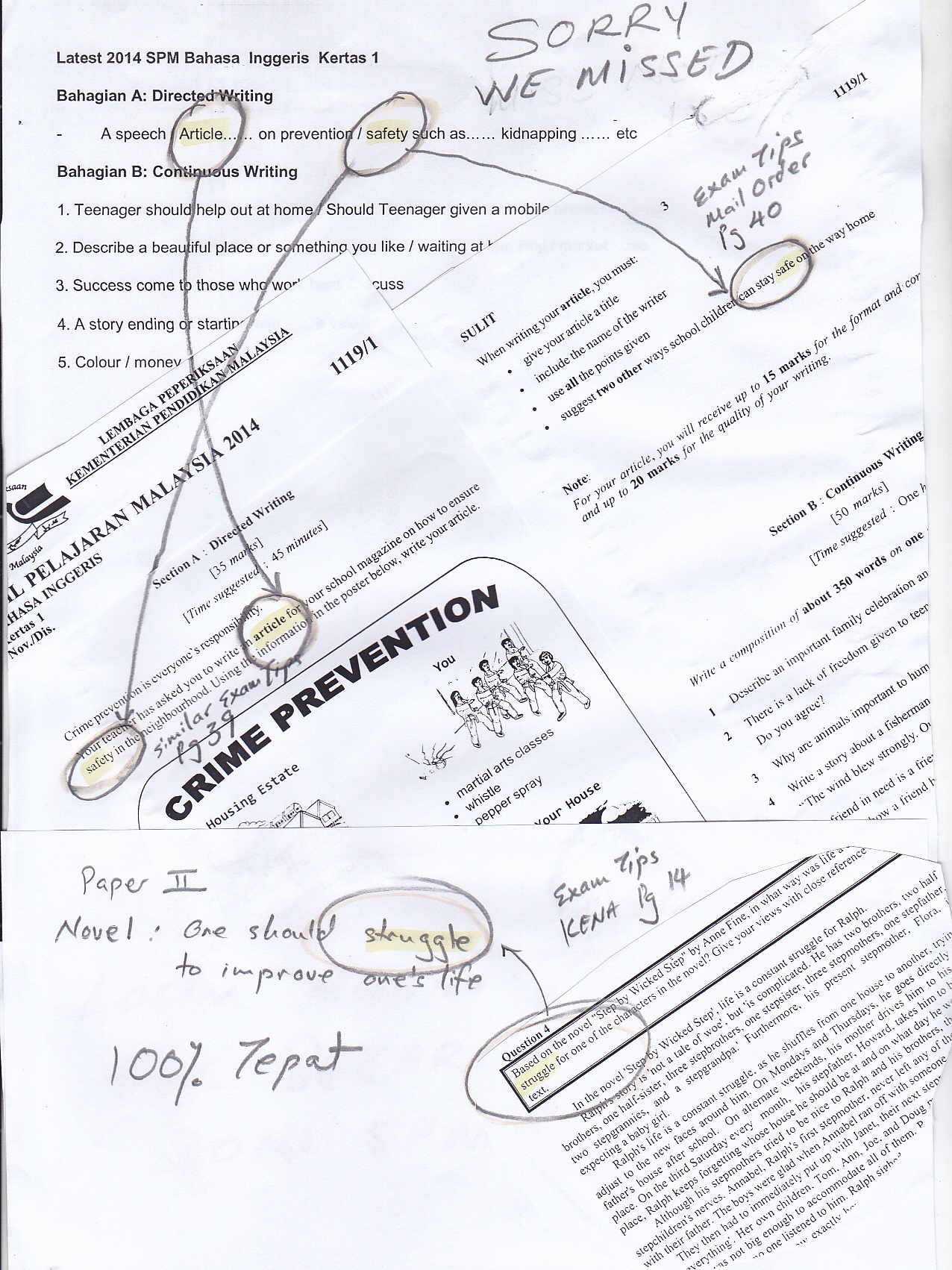 Latest 2014 SPM BAHASA MELAYU (Kertas 1)
BAHAGIAN A
Kebaikan Laman Sosial / Bersukan / Membaca
BAHAGIAN B
1.Faktor lunturnya semangat kejiranan dan cara-cara atasi.
2.Kebaikan khidmat bimbingan dan kaunseling sekolah / membeli barangan Malaysia
3.Syarahan — Membanteras Jenayah Tanggungjawab Bersama / Kerjasama antarabangsa membanteras kegiatan penyeludupan dadah / manusia …..dan sebagainya
4.Peranan guru / Ibu bapa melahirkan ramaja berilmu / cemerlang / patriotik dan sebagainya
5.Faktor-faktor / punca warisan seni budaya / permainan tradisional semakin kurang diminati oleh generasi sekarang
Ingat! Kami hanya cuba membantu.
Insyallah anda berjaya.
Latest 2014 SPM Bahasa  Inggeris  Kertas 1
Bahagian A: Directed Writing
-         A speech / Article…… on prevention / safety such as…… kidnapping …… etc
Bahagian B: Continuous Writing
1. Teenager should help out at home / Should Teenager given a mobile phone? Discuss.
2. Describe a beautiful place or something you like.
3. Success come to those who work hard .Discuss
4. A story ending or starting with…… a valuable lesson…… etc
5. Colour / money
READ MAIL ORDER EXAM TIPS is much more better!
Remember! We are trying to help.
Just Read up. May God Bless You